The Annual Kilimanjaro Marathon is a week away.
It is one of the most well organized, scenic and prestigious marathons in East Africa. Happening annually on the 1st Sunday of March, this has been termed as the great Kenyan runners' migration.  Busloads of Kenyan elite and recreational runners will take the annual sojourn through Namanga on 29th February into Moshi, dominate the half and full marathons, party wildly into the night then migrate back on 2nd March.
In the Kili marathon, It's only the strong minds that finish the race. The race is when the body has given up. The humidity saps every ounce of physical strength left. The heat then starts gnawing at your resolve. Many are those who start then succumb to Moshi's intoxicating breath.
Urban Swara's Migrate to Moshi
I was in one of those busloads last year with the Urban Swaras whose well organised and co-ordinate runs within Nairobi usually include this annual migration to Moshi.
I had been running for a year and I felt daring enough to venture beyond Kenyan. Ndakaini marathon had emboldened my spirit. If you have run at Ndakaini and finished then you are among the toughest runners out there. Those Murang'a hills eat runners for breakfast.
I ran the Kili half marathon in 2hrs 35mins. This came as a total surprise as I almost clocked a DNF (Did Not Finish) due to a persistent stitch at 15Kms. I hadn't discovered Strava then so I had no gadgets to monitor my pace. Luckily, the organizers had a website that clocked every runner's time.
That medal was enough to earn me a photo opp with some of Kenya's elite runners who finished 6th & 7th place in the full marathon.
Kilimanjaro 2020 Marathon Preparation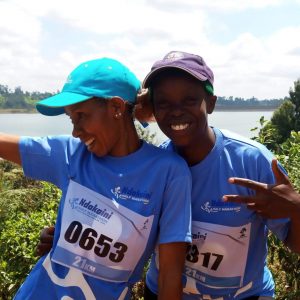 My preparations for this year's run began in earnest this month. This usually entails doing longer runs 21-25K more frequently (twice a week). The Westlands Red-link road, and all routes within the Kikuyu/Waiyaki way region now know my feet by name. If asked, they'd probably tell you tales of the sweat they have soaked from my skin, the thuds they have hummed to as my soles played a rhythm they have come to know so well.
Last year, I didn't allow myself time to explore Moshi beyond the run trail.
This year though, I hope to do a bit of hiking before the Sunday run. I came across Nina Zara's blog Safari Junkie and her list of things to do in Moshi in 24 hrs will be my itinerary
To all those Kenyans planning to migrate for Kili, may you enjoy the first hill, the humidity and the hospitality of our neighbours.
I write, I walk, I run, I rant, I hike, I have been known to go off-script