On 13th April, we put 1,000 pieces of a jigsaw puzzle on the table. This was going to be our #Stayhome family challenge for the rest of our quarantine days. It seemed impossible 😳

The Minnesota Wildlife puzzle was a gift from the principal, Oak-Land Middle School in Minnesota,  Andy Fields as a farewell gift following my 2-week poetry class in May last year.  Teaching poetry to 5th & 6th graders was not anything I'd ever done at home or anywhere. There were too many balls in the air; being in the US for the first time ever, teaching poetry, staying with a family I had only met a few months earlier. Amidst all this, the trip which was a first initiative for the school was such a huge success that my presence made it into the biggest publication in Minneapolis.

Day 1. The sheer number of pieces made us believe we'd take at least 2 weeks to put together. This would continue to be a raging debate in our house as to how long it would take us to finally complete the puzzle. At some point, there was a sense of despair, especially from our 3 kids. However, though I'd brought out the game to challenge them, it's my husband who slowly started getting hooked.
Day 5. "Now we are getting somewhere" Naomi exclaimed. We each chose to 'attack' the puzzle from different angles picking the pieces that linked without paying mind to what the top pieces were. This would prove to be an important life lesson to us all on problem solving.
Day 5 "Now we are getting somewhere" our daughter exclaimed

Day 7. Ritchie sleeps at 4am linking everything else except the words 'Minnesota Wildlife'. They had proven to be the toughest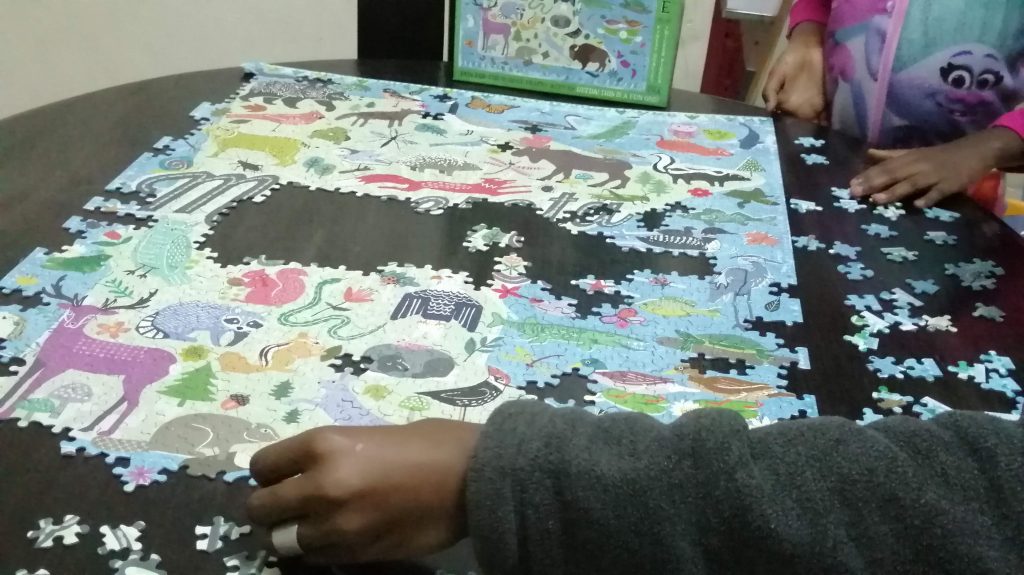 Day 8. We all declare, hii itaisha leo, "it's going down tonight". At 1am we put the thousandth piece on the word 'Minnesota'. The following day in the morning, the kids woke up to find that Ritchie and I had completed the puzzle.
We all posed for photos with the completed work of art as pondered "if we take it apart, can we put it back together in 5days'Some subtle yet powerful life lessons were learned 
Some 8 life Lessons from a Jigsaw Puzzle
No matter how tough a task it seems at the beginning, if you break it down to small daily wins, it can be done
Not every challenge/problem can be solved on day one. 
There are things you just can't do alone. You will either take too long or give up even before you far
Every team member matters whatever their contribution 
Having a team helps you see new ways of approaching the game and finding angles to start from
There will be moments that you will despair, when every piece you try to fit just doesn't work.
It is ok to ask for help. There are those who will see the clues and patterns faster. It doesn't mean that your contribution is negligible
There are those of us who will become more invested in the game, those who will stay up till 4 am trying to figure out the pieces. Those who will give us a head start and make sacrifices to put everything together. More often than not, they will be the ones who are more patient, they are more contemplative and calmer.
Perhaps the biggest aha moment us was just how that this puzzle and our efforts to 'put it all together' symbolized marriage and how the lessons above can be so accurately applied to being in a life long relationship.
In just 8 days, the jigsaw puzzle game taught us and the kids such valuable life lessons that might have taken years to unravel. That it happened so effortlessly is something my mind is still unpacking.